Valuing people-to-people contact,
Managing a dormitory where you can live a student life in a homely environment
I will do it.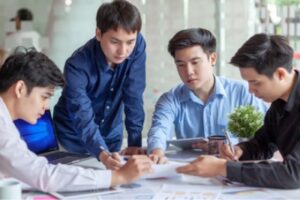 We operate student dormitories, female student halls, and studio condominiums. The anxiety and loneliness of students who leave their homeland and start a new life is enormous. We will prepare a comfortable learning and living environment that will ease those anxieties and change your new life into expectations and hopes. Dormitory supervisors and dormitory mothers who treat you like a family, and friends you can meet while sleeping and eating will be lifelong friends.
In addition, the student dormitories and student halls operated by our company create a cozy atmosphere created by interacting with people while protecting the privacy space, which is important for living together, and the community space, which is a place for people to interact. I cherish it.
A study room where you can concentrate on your studies, with thorough security provided by a resident manager, a well-balanced diet provided by a registered dietitian. We provide the peace of mind that only a student dormitory or student hall can offer. Parents can leave their children with peace of mind according to various lifestyles of students and adults, such as short-term use of student dormitories, short-term and long-term use as company housing, and studio apartments managed 24 hours a day. We provide a safe and secure living space.